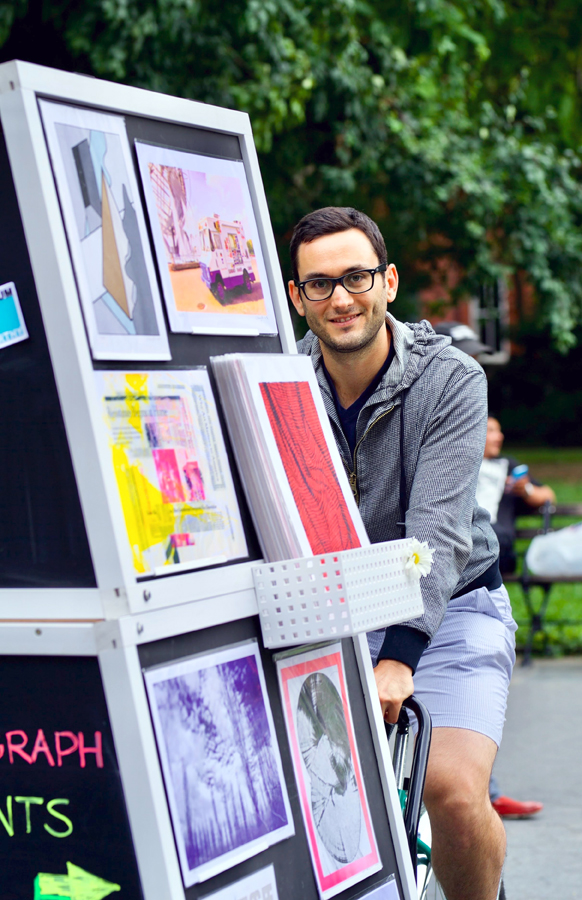 Authorized to Work in the US emerged from a foreign artist's struggle for his work authorization in the United States. The artist received his MFA degree from Parsons Design & Technology program and got his OPT (F-1 Optional Practical Training) for a year. Towards the end of his OPT, the real struggle for the visa status has began. For his O-1b status (aka. O-1 Visa: Individuals with Extraordinary Ability or Achievement), he gathered reference letters from industry professionals, he put together his portfolio and his press appearances with many other documents. At the moment, he is authorized to work in the US for 3 years and looking for jobs. He is also managing his own projects ranging from clothing to electronics and many more.
As a celebration of his new visa status, the artist hand printed t-shirts for himself and others who had the same struggles for their statuses. To get his new visa, the artist had to travel back to Turkey for a short period. During his visit, he closed himself into a printshop and finished the first batch of his shirts. All t-shirts in this shop are Made in Turkey and Hand-printed in Turkey. The artist believes that this was really important for his statement; Made in Turkey but Authorized to Work in the US. He also named each model with different working visa types (O-1, H-1b, P-1a, etc) Since the shirts are all hand-printed, there may be slight differences from the pictures.
Risograph is a digital printer with a process very similar to screenprinting. Risographs can only print one color at a time, so for every color, the color drum in the printer has to be changed. At the moment, Authorized to Work in the US has 8 different colors: black, indigo blue, teal, steel, yellow, bright red, yellow, fluorescent pink and metallic gold ink, used in an RP3700 risograph. In the shop, you can find prints ranging from US letter size to tabloid size.
info@authorizedtowork.us 
Sign up with your email address to receive news and updates.